Table of Contents
---
In 2022, inflation in the United States reached its highest level in the last 40 years and amounted to 8.2 %. Many US residents were in a crisis, so the authorities decided to send stimulus checks to citizens to help people cope with high prices.
Stimulus checks are sent to US taxpayers to stimulate the economy. This process is triggered by the fact that residents increase consumption through spending and thus increase the income of retailers.
The stimulus checks are part of a larger federal stimulus package that is meant to support the economy, like in 2020 with the CARES Act and 2021 with the American Rescue Plan.
Between March 2020 and March 2021, the US government sent Americans three rounds of stimulus payments to ease the economic hardship caused by COVID-19.
Stimulus checks have been sent to US taxpayers several times.
Read more about the 2nd Stimulus Check.
Read more about the 3rd Stimulus Check.
These checks vary in amount depending on the status of the taxpayer. Joint taxpayers usually receive twice as much as those who file an individual return. In some cases, those wit­h unpaid taxes saw their stimulus checks automatically applied to their outstanding balance.
American Stimulus Checks Rescue Plan Historical Outline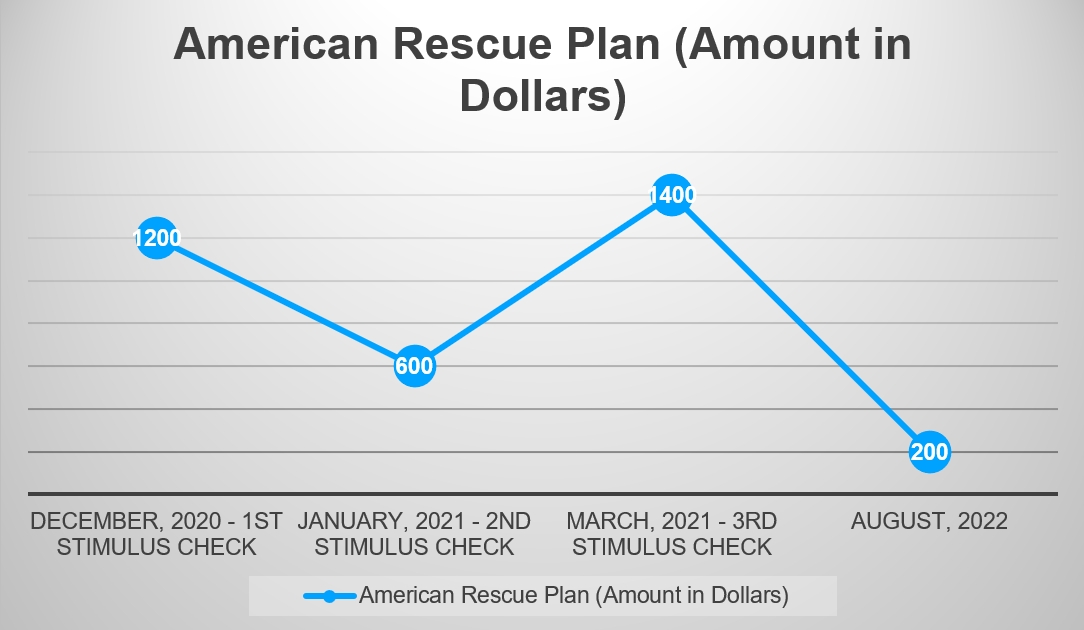 A study published by the National Bureau of Economic Research (NBER) found that fiscal stimulus funds affect the overall spending pattern of consumers. The provision of fiscal stimulus through the mailing of checks led to an increase in consumer activity.
States that will give stimulus checks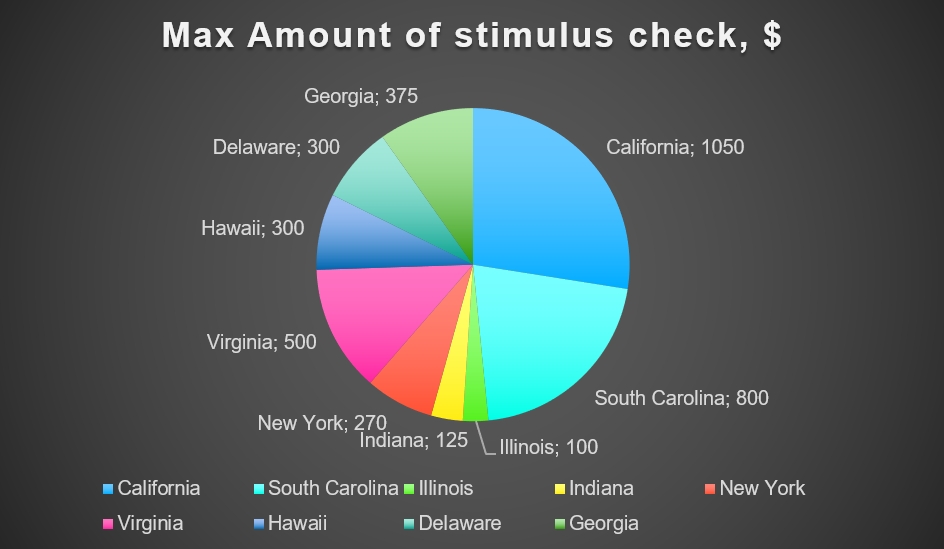 California
California residents who meet certain requirements will again receive Golden State Stimulus payments. The amount on the check will be between $350 and $1,050.
State money is eligible for people whose last year's income was less than $75,000 and who filed their 2020 tax return by October 15, 2021. In addition, they must live in California for at least 6 months and live in the state now, and not be dependents.
Thus, here are some rules to get maximum stimulus checks in California:
to get $350, you have to earn less than $75,000 per year;
to get $700, you need to be a couple who file jointly and earn less than $150,000 per year;
you can also get $350 if you meet the requirements for the above families who have at least one dependent.
To apply for minimum stimulus checks, you have to:
to get $200, you have to earn up to $250,000 per year;
to get $400, you need to be a couple who file jointly and earn less than $500,000 per year;
you can also get $200 if you meet the requirements for the above families who have at least one dependent.
Payments will be distributed in the same way as other anti-crisis payments. That is, first the money will go to direct deposit accounts, and only then - in the form of paper checks.
The Tax Franchise Board website has a tool that can be used to determine the amount due. Most Californians don't have to do anything (apply or file any paperwork) to get paid, the payment is automatically credited.
If you need additional financing, you can also apply for online loans in California to get up to $50,000 on the same day.
South Carolina
South Carolina residents will be able to receive between $100 and $800 between late November and December. To receive a stimulus check, you need to fill out a form called "South Carolina Individual Income Tax return (SC1040) for the tax year 2021 by October 17, 2022." If you managed to do it before the indicated deadline, then you will receive your money before December 31, 2022. If not, then your check will be received before March 2023.
Illinois
Under the plan, $50 will be sent to people making less than $200,000 a year and $100 to couples applicants filing jointly and making less than $200,000.
Citizens also have the opportunity to receive $100 for each dependent, up to three dependents. So a family of four can earn up to $300. In addition, a resident of Illinois can fill out an application on the website and get a quick loan.
Indiana
You don't even need to fill out any additional form to receive funding in Indiana. Since the beginning of May, residents have started receiving checks for $125 regardless of their earnings. The plan calls for printed checks to be received by 1.7 million taxpayers who have not provided their banking information to the state by the end of July.
New York
As with Indiana, New Yorkers do not need to take any action in order to receive a stimulus check. On average, those New Yorkers who received an Earned Income Credit on their 2021 state tax returns and/or an Empire State Child Credit will be able to receive funding up to $270.
Virginia
Virginia residents will receive 2.9 million refunds in total through October 11. Taxpayers will receive stimulus checks of $250 per person or $500 for couples with a joint return. If you managed to apply before July 1st, you will receive your check by October 31st. If not, then for the rest of the year.
Hawaii
Hawaii residents who earned $100,000 in 2021 or couples who applied jointly and earned $200,000 in 2021 can receive a $300 stimulus check. So a family of 4 can get $1,200.
If the resident earned more than this indicator, then he will receive a check in the amount of $100.
Most likely, despite the fact that deposits began to be issued already on September 9, paper checks will not go on sale until the end of the month. If you need money right now, you can always apply for a loan online in Hawaii.
Delaware
Residents of Delaware, who filed a return in 2020 due to a budget surplus., began receiving $300 stimulus checks in May of this year.
Couples who applied jointly can receive $600 for two. Throughout the fall, residents of the state will continue to receive funding.
Georgia
Residents of the State of Georgia can receive eligible stimulus checks:
$250 for individual applicants,
$375 for heads of household,
$500 for couples who apply together.
If a resident applied by April 18, they should have received his funding by early August. If you have not received funding due to delays at the agency, you can apply for an online loan in Georgia to receive funds today.