Historical Roots of the Richest Tribes in America
Native American tribes have been on this land for centuries. Before European settlers arrived, these tribes lived by hunting, farming, and trading. Each tribe had its traditions and ways of governing its people.
But with settlers coming in, things changed. The new arrivals took land, made treaties that weren't always fair, and moved tribes from their homes. This made life hard for many tribes. They couldn't farm or trade like before and were pushed to small areas called reserves.
Despite these tough times, tribes didn't give up. Over the years, they found new ways to earn and grow. By the 20th century, some tribes started using their lands for new business. This was the start of their journey to becoming some of the richest communities in America.
Today, these tribes are not just rich. They show how you can respect your past while working for a better future. It's a lesson in hard work and staying true to who you are.
Pathways to Native American Economic Success
Over the years, Native American tribes have employed a range of strategies to achieve economic success. Here are some key avenues they've explored:
Tribal Casinos. Many tribes operate casinos, which have become significant sources of income.
Tribal Loans. Many tribes have established lending enterprises, offering loans with flexible terms. Tribal loans often appeal to those who might find it challenging to secure traditional bank financing.
Land Leasing. Tribes lease their lands for various purposes, including farming, housing, or business ventures.
Natural Resource Management. Tribes with mineral-rich lands benefit from oil, gas, and mining operations.
Tourism and Cultural Experiences. Offering cultural tours, events, or museums can generate revenue and promote cultural heritage.
Crafts and Artisan Products. Handmade crafts, jewelry, and artworks fetch a premium in markets, both local and international.
Fishing and Agriculture. Tribes with access to fertile lands or water bodies often engage in commercial fishing or farming.
Retail Ventures. Some tribes own and run shops, malls, or other commercial spaces.
Renewable Energy Projects. Wind and solar projects on tribal lands contribute to energy needs and offer a sustainable income source.
Education and Training Centers. By offering specialized courses or training, tribes cater to educational demands and earn from tuition fees.
Healthcare Facilities. Tribes operate health clinics or hospitals, serving both their community and surrounding areas.
How Much Do Native Americans Get Paid a Month?
It's a common misconception that all Native Americans receive a substantial monthly payment from tribal revenues. In reality, the amount varies significantly among tribes and depends on numerous factors, such as the success of tribal ventures and the number of registered tribe members. Some tribes provide monthly dividends or "per capita" payments to their members, sourced from their business profits. These payments can range from as little as $25 a month to more than $1,000 for some prosperous tribes. It's essential to note that not all tribes offer monthly payments, and many prioritize communal benefits like education, healthcare, and infrastructure over individual payouts.
Yet, it's vital to highlight that not all Native Americans have seen economic prosperity. According to 2018 US Census data referenced by Poverty USA, Native Americans held the highest poverty rate among all minority groups at 25.4%. This is compared to 20.8% for Black or African Americans and 17.6% for Hispanics.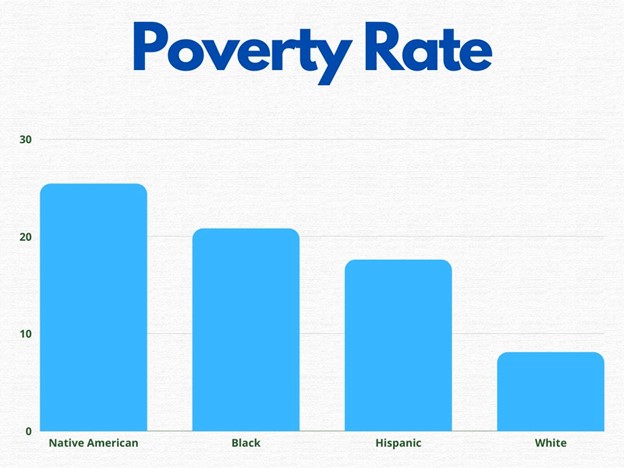 Spotlight: Top 10 Richest Native American Tribes
When it comes to wealth and economic success among Native American tribes, several communities have significantly prospered due to various business ventures, primarily through casino operations and other entrepreneurial initiatives. Topping the list and often touted as the richest tribe in America is the Shakopee Mdewakanton Sioux Community of Minnesota. Their story, along with others on this list, showcases the resilience, business acumen, and vision of Native American communities in today's age. So, what are the richest Indian tribes in America?
1 – The Shakopee Mdewakanton Sioux Community (Minnesota)
Residing in Minnesota, the Shakopee Mdewakanton Sioux Community (SMSC) has a rich heritage tied to the Dakota people. Throughout the years, the tribe has experienced hardships, from forced relocations to the breach of treaties, but their unwavering spirit has enabled them to flourish in modern times.
Primary Source of Wealth
Gaming Facilities. SMSC is the force behind two major gaming establishments - Mystic Lake Casino Hotel and Little Six Casino. Mystic Lake is the largest casino in Minnesota, boasting a 150,000-square-foot gambling floor, a 600-room hotel, and an array of dining and entertainment options.
Non-Gaming Ventures. Apart from gaming, the tribe has invested in other sectors. They own and manage the Dakota Mall, Playworks, a childcare facility, and The Meadows at Mystic Lake, a championship golf course.
Land Ownership and Real Estate. The SMSC owns significant land parcels. Their continued land acquisition bolsters their asset portfolio and provides opportunities for further development and leasing.
In 2022, the Shakopee Mdewakanton Sioux Community reported a peak revenue of $95.6 million. This considerable sum is generated by a workforce of 3,000 employees, bringing the revenue per employee ratio to an impressive $31,866, as highlighted by Zippia's data analysis.
Committed to environmental sustainability, the SMSC has been a pioneer in organic waste recycling, establishing a program that serves as a model for others. Their organic farming endeavor supplies local markets and the tribe's own enterprises.
Did you know? The Shakopee Mdewakanton Sioux Community's Dakota Mall, in addition to retail outlets, features a medical clinic, a daycare center, and even a tribal government office, serving as a comprehensive community hub.
2 – The Seminole Tribe of Florida
The Seminole Tribe of Florida's legacy encompasses battles against European invaders, resistance to enforced relocation, and their eventual declaration as a sovereign nation within Florida's borders. The name "Seminole" springs from the Spanish term "cimarrón," translating to "wild" or "runaway."
Dividend Payments and Financial Benefits for Members
A striking testament to their economic success, every Seminole tribal member, regardless of age, enjoys biweekly dividend payments. These dividends culminate to approximately $128,000 annually. Furthermore, by the age of 18, each Seminole child emerges as a multimillionaire due to protective tribal trusts, ensuring these funds remain untouched until adulthood.
Employment at Seminole Tribe of Florida
Employment within the tribe covers a broad spectrum of roles. For instance, the hourly pay for a Front Desk Receptionist starts around $12.96, while a Nutritionist earns approximately $30.02.
Primary Source of Wealth
Gaming Operations. The Hard Rock Hotel & Casino in Hollywood, Florida, serves as the tribe's crown jewel. Their business acumen shone when they took over the Hard Rock brand in 2007, broadening their influence across global cafes, casinos, and hotels.
Agriculture. The tribe's investments in the cattle realm are significant. Dedicated vast lands for cattle ranching position the Seminoles among the top cow-calf producers in the U.S.
Tourism and Retail. Billie Swamp Safari and Ah-Tah-Thi-Ki Museum reflect the tribe's dedication to preserving and promoting their culture. Additionally, they benefit from tax-free tobacco sales and have ventured into the realm of energy drinks.
Generating billions annually, the Seminole Tribe stands as an economic powerhouse. Their gaming establishments, primarily the Hard Rock entities, form a significant chunk of this revenue. The acquisition of the Hard Rock brand only amplified their financial reach and potential.
Did you know? The Seminole Tribe of Florida's Hard Rock brand extends beyond gaming and hospitality. They also own the world's largest collection of music memorabilia, displayed in their Hard Rock Cafes and Hotels worldwide.
3 – The Pequot Tribe (Connecticut)
The Pequot Tribe, native to what is now Connecticut, has a rich history stretching back for centuries. Known for their early encounters with European settlers, the Pequots faced significant challenges, from violent conflicts like the Pequot War to issues of land and sovereignty.
Economic Overview
In recent times, the Pequot Tribe has made significant economic strides. In 2017, activities stemming from the Mashantucket Pequot Reservation were responsible for producing a substantial $145 million. This sum directly bolstered Connecticut's state and local government revenue. Additionally, when considering indirect and induced effects, the tribe's contributions are even more pronounced, reinforcing their importance to Connecticut's economic landscape.
Primary Source of Wealth
Gaming Operations. The Foxwoods Resort Casino stands as a testament to the Pequot's success in the realm of gaming. One of the world's largest casinos, Foxwoods has become synonymous with gaming luxury in the Northeast.
Real Estate and Development. Beyond gaming, the Pequots have significant landholdings. This has led to various development projects, both residential and commercial, boosting their economic prospects.
Retail and Entertainment. The tribe has embraced the value of providing holistic entertainment experiences. This is evident in their diverse range of shopping, dining, and entertainment options within and around the Foxwoods complex.
Like many other tribes, the Pequots grapple with the need to maintain and protect their cultural identity while advancing economically. As they diversify and expand their business endeavors, ensuring sustainable growth without compromising their heritage remains a priority.
Did you know? The Mashantucket Pequot Museum and Research Center, operated by the Pequot Tribe, is one of the largest Native American-owned museums in the United States, featuring immersive exhibits and educational programs.
4 – The Puyallup Tribe (Washington)
Nestled in what's now known as the Puget Sound region of Washington, the Puyallup Tribe has deep ancestral roots. Historically fishermen and gatherers, the Puyallups have withstood colonization, forced relocations, and fought diligently for their treaty rights, especially concerning fishing.
Today, the Puyallup Tribe has transformed into a notable economic entity within Washington state. Their ventures span various sectors, and they have astutely reinvested in their community, ensuring growth and sustainability for their members.
Primary Source of Wealth
Gaming Operations. The tribe operates casinos such as the Emerald Queen Casino, which has played a significant role in their economic upliftment. With a new and expansive casino opened in 2020, their hold in the gaming sector promises further growth.
Real Estate. The Puyallups have always valued their land, and this has translated into real estate ventures and property management, leading to a steady revenue stream.
Fisheries. Honoring their ancestry, the Puyallups run a successful fisheries operation. The Puyallup Tribe's seafood, especially salmon, holds special cultural and economic importance.
The Puyallup Tribe has been on a trajectory of consistent development. Recent years have seen infrastructural advancements, including the new casino, which showcases their ambition. Balancing economic pursuits with the need to uphold treaty rights and navigate state regulations remains an ongoing challenge.
Did you know? The Puyallup Tribe is known for its annual Powwow, one of the largest in the Pacific Northwest, featuring traditional dance, music, and cultural celebrations that attract participants and visitors from across the region.
5 – The Morongo Band of Mission Indians (California)
Residing in the San Gorgonio Pass region of California, the Morongo Band of Mission Indians have a vivid history dating back thousands of years. Known for their cultural richness and enduring spirit, they've navigated through Spanish missions, the gold rush era, and territorial disputes to establish their modern-day identity.
The Morongo Band has transitioned from a community grappling with challenges to becoming an economic powerhouse within California. Their strategic investments and robust business acumen have spurred growth, benefitting not only their members but also the surrounding communities.
Primary Source of Wealth
Gaming Operations. The Morongo Casino, Resort & Spa is a beacon of their economic success. Located in Cabazon, this establishment caters to both locals and tourists, offering a gamut of entertainment options and solidifying their stature in the gaming industry.
Real Estate and Infrastructure. Leveraging their strategic location, the tribe is involved in real estate development projects, generating consistent revenue.
Water Rights. Recognizing the value of water in arid California, the Morongo Band has astutely negotiated water rights, which now contribute significantly to their income through sales and partnerships.
As the Morongo Band continues to expand its ventures, it's mindful of the challenges that accompany growth. Balancing the preservation of sacred lands and traditions with economic pursuits is a focal point, as is fostering relationships with local governments and businesses for mutual benefit.
Did you know? The Morongo Casino, Resort & Spa in California houses the world's tallest fully-functioning casino-owned Ferris wheel, offering stunning views of the surrounding landscape.
6 – The Chickasaw Nation (Oklahoma)
Originating from the southeastern regions of America, the Chickasaw Nation is often termed as the "Unconquered and Unconquerable." Their relocation to Oklahoma during the 1830s, known as the "Trail of Tears," speaks volumes about their resilience and strength in facing adversities.
In the present day, the Chickasaw Nation stands out as a significant contributor to Oklahoma's economy. Through strategic planning and a visionary approach, they have ushered in an era of prosperity for their members and the broader community.
Primary Source of Wealth
Gaming Operations. With establishments like the WinStar World Casino and Resort, the Chickasaw Nation has a solid footing in the gaming industry. Their casinos are among the largest and most lucrative in the state, attracting patrons from across the nation.
Tourism and Cultural Ventures. The Chickasaw Cultural Center and other attractions showcase the rich history and culture of the tribe, becoming significant tourist magnets and revenue sources.
Business Diversification. The Chickasaw Nation has ventured into sectors like banking, healthcare, and media, ensuring a multi-faceted revenue model.
As the Chickasaw Nation broadens its economic horizons, it remains conscious of its roots and values. While their businesses flourish, they ensure that their cultural and historical legacies are preserved and celebrated. Engaging with the broader Oklahoma community and collaborating with the state for mutual growth can pose challenges but also offers immense opportunities.
Did you know? The Chickasaw Nation's Artesian Hotel in Sulphur, Oklahoma, is not only a luxurious destination but also features a natural artesian spring in its lobby, known for its purported health benefits.
7 – The Poarch Band of Creek Indians (Alabama)
The only federally recognized tribe in Alabama, the Poarch Band of Creek Indians have a deep-rooted connection to the Creek Nation. Despite facing numerous challenges throughout history, they've managed to maintain their cultural identity and traditions.
Over the past decades, the Poarch Band has transformed its economic landscape, becoming one of Alabama's significant economic contributors. Their diverse ventures and dedication to development have ushered in newfound prosperity for both the tribe and surrounding regions.
Primary Source of Wealth
Gaming Operations. The Wind Creek casinos and hotels, owned by the Poarch Band, stand as a testament to their stronghold in the gaming industry. These establishments not only provide entertainment but also generate substantial employment and revenue.
Real Estate and Commercial Ventures. Beyond gaming, the Poarch Band has made strategic investments in real estate, spanning both residential and commercial sectors.
Agriculture and Natural Resources. Tapping into Alabama's rich soils, the tribe is involved in various agricultural activities, further diversifying their income streams.
The Poarch Band, while expanding its economic ventures, is ever-mindful of its responsibility towards its members and heritage. They face the dual challenge of scaling their businesses while ensuring that their rich traditions and customs are not overshadowed. Regulatory nuances, especially concerning gaming in Alabama, also present a unique set of challenges.
Did you know? The Poarch Band's Wind Creek Hospitality division has expanded beyond Alabama, managing resorts and casinos in several other states, making them a significant player in the gaming and hospitality industry.
8 – The Oneida Indian Nation (New York)
As one of the original Five Nations of the Iroquois Confederacy, the Oneida Indian Nation has a rich history dating back several centuries. Located in the heart of New York State, the Oneidas played pivotal roles during pivotal moments in American history, including the Revolutionary War.
The Oneida Indian Nation has significantly impacted the economy of central New York. Through various ventures, they've not only uplifted their tribal members but also contributed to the regional economic dynamism.
Primary Source of Wealth
Gaming Operations. The Turning Stone Resort Casino is a crown jewel in the Oneida Nation's economic portfolio. This resort has become a premier destination in the Northeast for gaming, entertainment, golf, and more.
Hospitality and Tourism. Apart from their casinos, the Oneida Nation operates multiple hotels, inns, and golf courses, attracting tourists and generating substantial revenue.
Retail and Services. The tribe has invested in various retail establishments and services, further enriching their economic landscape.
In a bid to strengthen their economic stance, the Oneida Nation has continually invested in expansion projects, notably within the Turning Stone Resort. However, as with most tribes, they juggle the growth of their enterprises with the preservation of their cultural heritage. Navigating the intricate regulatory landscape of New York, especially concerning gaming, often presents its own set of challenges.
Did you know? The Oneida Indian Nation is renowned for its philanthropic efforts, including significant donations to local and national causes, reflecting their commitment to community and social responsibility.
9 – The Nisqually Tribe (Washington)
The Nisqually Tribe, native to the southern Puget Sound region of Washington, boasts a heritage that spans generations. They've thrived in an area known for its natural beauty, adapting to changing times while preserving their cultural traditions.
The Nisqually Tribe has transformed itself into an economic force in the state of Washington. Their ventures, marked by sustainability and community well-being, have not only propelled their growth but also benefited the local and regional economy.
Primary Source of Wealth
Natural Resources. The tribe wisely manages its natural resources, including timber and fisheries. Sustainable practices ensure a continuous revenue stream while respecting the environment.
Nisqually Red Wind Casino. The tribe's gaming facility, the Nisqually Red Wind Casino, has become a prominent entertainment destination in the region, generating substantial revenue and employment opportunities.
Tourism and Cultural Promotion. The Nisqually Tribe showcases its rich heritage through cultural events, museums, and attractions, attracting tourists and contributing to cultural preservation.
Recent initiatives by the Nisqually Tribe include green energy projects and a commitment to environmental stewardship, aligning with their deep connection to nature. Challenges encompass the delicate balance between economic growth and environmental protection, a testament to their dedication to sustainability.
Did you know? The Nisqually Tribe's Nisqually Red Wind Casino not only offers gaming but also hosts live music events, featuring artists from various genres, making it a hub for entertainment in the region.
10 – The Choctaw Nation of Oklahoma
The Choctaw Nation of Oklahoma, with roots in the southeastern United States, traces its history through a complex narrative of removals, treaties, and cultural preservation. Their journey, often marked by resilience, has led them to thrive in the modern state of Oklahoma.
The Choctaw Nation has emerged as a powerful economic player in Oklahoma, contributing significantly to the state's prosperity. Through a mix of traditional enterprises and contemporary investments, they've built a strong foundation for their community's success.
Primary Source of Wealth
Gaming Industry. Choctaw Casinos & Resorts, with multiple locations, anchors their economic success. These establishments offer a diverse range of entertainment options, driving revenue and employment opportunities.
Agriculture and Manufacturing. The tribe engages in agriculture, including cattle ranching and farming, ensuring a sustainable income source. Manufacturing endeavors further bolster their economic portfolio.
Healthcare and Services. The Choctaw Nation's investment in healthcare and other services has not only benefited their community but also generated revenue through patient care and other service offerings.
Recent initiatives include expanding their healthcare services and the development of new gaming facilities. Challenges for the Choctaw Nation encompass managing growth while preserving cultural heritage and effectively navigating the regulatory landscape governing gaming operations in Oklahoma.
Did you know? The Choctaw Nation operates the Choctaw Nation Health Services Authority, providing comprehensive healthcare services to its tribal members and neighboring communities, contributing to the well-being of the region.
Community Benefits from Tribal Affluence
As Native American tribes across the United States have achieved economic prosperity, their affluence has led to numerous community benefits. These tribes have leveraged their success to make significant positive impacts not only on their own members but also on the broader communities in which they operate. Here's a closer look at how tribal affluence benefits communities:
Job Creation. The economic ventures of affluent tribes, such as gaming, hospitality, and retail, create jobs not only for tribal members but also for non-tribal individuals in the surrounding areas. This leads to reduced unemployment rates and improved economic stability for local communities.
Economic Growth. Tribal enterprises, including casinos, resorts, and retail outlets, often serve as economic anchors, attracting visitors and tourists. This increased economic activity results in higher revenue for local businesses and municipalities through taxes, leading to improved public services and infrastructure.
Infrastructure Development. Affluent tribes often invest in the development of infrastructure, including roads, utilities, and public facilities. These improvements benefit both tribal members and neighboring communities by enhancing transportation and access to essential services.
Education and Healthcare. Tribal affluence enables tribes to invest in education and healthcare facilities, not only for their members but also for local residents. This helps improve the overall quality of education and healthcare services in the region.
Philanthropic Contributions. Many affluent tribes engage in philanthropic efforts, donating funds to support local schools, charities, and community programs. These contributions have a far-reaching impact on improving the well-being of residents in neighboring communities.
Cultural Preservation. Tribes often prioritize the preservation of their cultural heritage. This includes funding cultural centers, museums, and events that educate and enrich the cultural experiences of both tribal members and the wider community.
Public Safety. Tribal enterprises, including gaming facilities, often contribute to public safety initiatives. This includes funding law enforcement and emergency services, making communities safer for residents and visitors alike.
Cultural Exchange. The success of tribal enterprises can promote cultural exchange and understanding between tribal members and the broader community. Cultural events and programs provide opportunities for cultural enrichment and celebration.
Final Reflections on Native American Wealth and Resilience
In summary, Native American tribes' journey toward wealth and resilience is a testament to their enduring spirit and capacity for positive change. Overcoming historical adversity, tribes have found economic prosperity through gaming and diversified ventures. Their success reaches beyond tribal boundaries, benefiting neighboring communities.
Despite achievements, tribes face ongoing challenges like complex regulations and cultural preservation. Yet, their story serves as a model of adaptability and resilience, where economic success aligns with cultural preservation and community well-being. As tribes continue shaping their future, their journey remains an inspiring example of indigenous strength in a changing world.