Max Cash Title Loans Review
Need instant cash? Max Cash Title Loans provides same-day financing even to borrowers with bad credit if they secure their loan with a car title. Find information or Apply for any service Max Cash Title Loans offers - Title Loans, Completely Online Title Loans with No Inspection, No Phone Calls, Car Title Loans, and more. Get Addresses & Directions, Phone numbers, and Website to log in.
Max Cash Rates and Fees
MAX Loan Amount

▲

MAX Loan Amount

It's the maximum sum of cash advance allowed to apply for in the state. It usually ranges from $500 to $1000. But it may vary depending on the lender and his requirements.

$50,000
MIN APR

▲

MIN APR

The minimal percentage allowed that actually represents annual cost of your loan. The APR is based on several things, including the amount you borrow, the interest rate and costs you're being charged, and the length of your loan.

29%
Collateral

▲

Collateral

Collateral – is some kind of your property which ensures the lender that you will repay the money. Guarantor – is a person that sings the agreement thus giving his guarantee that you will repay the loan. Payday loans are unsecured which means to get cash advance you don't need either a collateral or guarantor.

Vehicle Title
MIN Loan Amount

▲

MIN Loan Amount

It's the minimal amount of cash advance you can apply for. It's not always stated, the average sum is $100. But it may vary depending on the lender and the state's regulations.

Varied
MAX APR

▲

MAX APR

The maximum percentage allowed that actually represents annual cost of your loan. The APR is based on several things, including the amount you borrow, the interest rate and costs you're being charged, and the length of your loan.

300%
Terms

▲

Terms

It's the period of time within which you are to pay off your loan.

Varied
Turnaround Time

▲

Turnaround Time

It's the period of time within which you get the money

1 business day
Find out more
Apply online
States where Max Cash Title Loans is available
Available in 30 states
Alabama
Arizona
California
Delaware
District of Columbia
Florida
Georgia
Idaho
Illinois
Indiana
Kansas
Kentucky
Louisiana
Michigan
Mississippi
Missouri
Nevada
New Mexico
North Carolina
Ohio
Oklahoma
Oregon
South Carolina
South Dakota
Tennessee
Texas
Utah
Virginia
Washington
Wisconsin
Table of Content:

How to apply for a Car Title Loan wit MaxCashTitleLoans

How do Max Cash Title Loans work?

What are MaxCash Title Loans Requirements?
Max Cash will help you find the necessary Title Loan with no income verification quickly and easily so that you don't waste time spending hours on the phone with a lender only to be rejected or not agree to their terms? With Max Cash, only one phone call will be enough to get approved for the necessary instant cash in just a few minutes. They narrow down the list of direct lenders to the best companies that should work for you.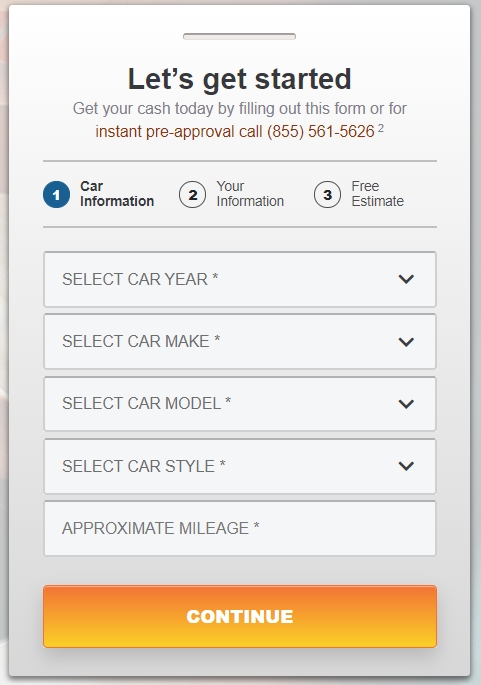 Select your state to see if title loans are allowed there
Fill out an online application form
Choose the best lender based on the amount they will loan you, the duration and annual percentage rate of the loan, and your ability to make the payments
Provide the necessary documents
Upon approval sign in the loan agreement
Get the money in a lender's store, or have it wired to your account same day, or have it ACH'ed to your account the next business day.
Short-term auto title loans are a good option to get instant cash for car owners without actually giving up your car. Max Cash is a connection service that can connect you with a variety of title loan lenders nationwide.
Submit your loan application online.
Find out how much cash you can get for your vehicle.
Get connected to the direct lenders who can lend you money in exchange for the title of your car.
Have your car inspected online via photos or videos, or visit the nearby store.
Get the money within 1 business day.
Keep your car and use the money while repaying the loan.
Max Cash posts every few months a list of car make, model, and city, state along with how much money someone received. This guide will give you a good idea of how much you can get for your car. 
It's open 7 days a week
Available for bad credit
Fast and easy application
Quick same-day funding
Bankruptcy is not a problem
No prepayment penalty
Car Title Loans are rather easy to get. Due to the fact that they are secured, they are less risky for a lender. Thus, companies don't require much for Title Loan approval:
US residence
18+ years of age
A lien-free title so that a lender could add themselves on as a lienholder.
Any proof of income - a traditional pay stub, a copy of your last month's bank statement, or even certain tax documents, government-issued funding such as disability
Past Bankruptcy OK
Bad Credit is OK
When it comes to getting approved for a title loan, there are few pieces of documentation the lender will need first. The documents required for title loans are quite common, and you may even have them laying around your house right now! Here are the documents you will most likely need to provide to your title loan lender:
Government Issued Photo ID 
Proof of Income 
Proof of Residence 
Vehicle Title 
Photos of the Vehicle
Three references
To make the car title loan process faster, you'd better prepare these documents before you apply. 
How Max Cash Title Loans Loans Work
Securing a loan with Max Cash Title Loans is both straightforward and efficient, with options to apply online, or in-store. Here's a brief walkthrough of the process:
Choose Your Loan Type. Select the most appropriate loan type that Max Cash Title Loans offers to suit your financial needs.
Application Submission. Either visit the Max Cash Title Loans website to complete a brief online application or head to a Max Cash Title Loans branch near you to apply in-person.
Document Verification. Prepare and submit necessary documentation for verification, which may encompass proof of income, identity verification, and proof of residency.
Approval and Agreement. Upon successful verification, you'll be notified of your approval. Carefully review and agree to the loan terms outlined in the agreement.
Funding. Following your agreement, the loan amount will swiftly be transferred to your designated bank account or provided to you in-store.
Repayment. Follow the outlined repayment schedule in your loan agreement, which will detail the repayment of the principal amount along with any associated interest and fees.
Are You Eligible? Max Cash Title Loans Loan Requirements
Here are the general requirements you need to meet:
Age Requirement. You must be at least 18 years old (or the age of majority in your jurisdiction) to apply for a loan with Max Cash Title Loans.
Proof of Income. Be prepared to show proof of a stable income, demonstrating your ability to repay the loan.
Credit Score. While Max Cash Title Loans caters to a broad spectrum of credit profiles, having a good credit score can enhance your chances of approval and potentially secure more favorable loan terms.
Residency Status. You should be a resident in the state where Max Cash Title Loans operates, complying with the local lending regulations and standards.
Bank Account. Possess a valid and active bank account where the loan funds can be deposited, and repayments can be withdrawn.
Contact Information. Provide up-to-date contact information, including a valid email address and phone number, facilitating seamless communication during the loan process.
Before applying, it's recommended to review Max Cash Title Loans's specific eligibility criteria and documentation requirements on their website or contact their customer support for personalized assistance. 
Max Cash Title Loans Loans Rates and Fees
It's always recommended to check the most accurate and up-to-date loan details with the lender directly. However, we can provide you with the average loan rates, terms, and fees for the most popular online loan products.
Max Cash Title Loans Locations - Find Addresses of the Company Near You
Arizona
Tempe
1843 E Southern Ave Tempe, AZ 85282- Tel.: (855) 561-5626
Compare

Top Money Services with

COMPACOM.COM
Need cash fast? Choose loans like Max Cash Title Loans, your go-to online direct lenders for quick and reliable financial solutions. As a trusted direct lender, they offer a range of loan options tailored to your needs. Find a location near you and experience a hassle-free application process, guided by their expert team. Ready for a financial breather? Visit Max Cash Title Loans or click APPLY ONLINE now!
Why Choose Companies Like Max Cash Title Loans?
Selecting a reputable lender like Max Cash Title Loans can offer a multitude of benefits to potential borrowers. Here are some compelling reasons why you might consider companies like Max Cash Title Loans:
Diverse Loan Options
User-Friendly Application Process
Transparent Terms and Conditions
Quick Approval and Fund Disbursement
Personalized Customer Support
Secure and Confidential Transactions
Flexible Repayment Plans
Competitive Interest Rates
Tailored Loan Solutions to Meet Individual Financial Needs.
Consider the Other Sites Like Max Cash Title Loans
Loans Like Max Cash Title Loans: Why Apply for Online Loans?
Emergency Medical Expenses
Home Repairs or Renovations
Covering Educational Expenses
Financing a Vehicle Purchase or Repair
Bridging Gaps in Cash Flow
Funding a Much-Needed Vacation
Investing in a Business Venture
Covering Moving Expenses
Planning a Wedding or Special Event.
How to Make the Most of Your Max Cash Title Loans Loan
To ensure that you benefit maximally from your Max Cash Title Loans loan, here are some strategies to consider:
Budget Wisely. Once you've secured your loan, incorporate the repayment plan into your monthly budget to avoid any financial strain and to manage your finances more effectively.
Use for Intended Purpose. Make sure to utilize the loan for the intended purpose, avoiding unnecessary expenses and focusing on fulfilling the specific financial need for which the loan was secured.
Early Repayment. If possible, try to repay your loan earlier than the stipulated timeframe. Doing this could potentially save you money on interest and positively impact your credit score.
Seek Financial Advice. If you're unsure about the best ways to utilize your loan, consider seeking advice from a financial advisor to help guide your decisions and to develop a strategic financial plan.
Build Credit Score. Use this opportunity to build or improve your credit score by making timely repayments, which can enhance your creditworthiness for future financial endeavors.
Emergency Fund. If you don't need to use the entire loan amount immediately, consider allocating a portion of it as an emergency fund for unforeseen circumstances, ensuring you have a financial cushion to fall back on.
Leverage COMPACOM's Resources. Utilize COMPACOM to compare different loan offers and to secure the most competitive rates, helping you to make the most of your loan.
Open Communication. Maintain open communication with your lender, informing them of any difficulties you may encounter during the repayment period and potentially negotiating more favorable terms if necessary.
By adopting these strategies, you can maximize the benefits of your Max Cash Title Loans loan and foster financial stability and growth. Remember, responsible borrowing is key to successful loan management.
COMPACOM: Your Premier Destination for Optimal Loan Deals
Navigating the financial market for the best loan deals just became simpler with COMPACOM. We stand as a beacon in the lending industry, partnering with a substantial network of over 300 direct loan companies. This partnership equips you to find offers that not only suit your unique financial situation but also come with the best possible rates.
Here's why COMPACOM is your go-to platform for loan solutions:
Wide Network of Lenders. Connect with 300+ reputable lending companies, all in one place.
Tailored Loan Options. Find loan packages that are specifically designed to cater to your financial needs, ensuring you get the best rates every time.
User-Friendly Interface. Navigate with ease and convenience as you explore various loan options available at your fingertips.
Secure Transactions. Your privacy is our priority, guaranteeing secure and confidential processing of your data.
Informed Choices. Utilize our platform to make knowledgeable decisions, equipped with all the necessary information and user reviews.
Choose COMPACOM to streamline your search for the perfect loan, matching you with the best loan companies that align perfectly with your financial objectives.
Ask an expert Carrie Wagner
I was looking for ways to improve my credit. I ran across FixMyCreditAt WriteME c0m. After hearing their story I purchased their Ebook and the information has helped me tremendously. It's great knowing that we have people like that helping people learn to repair our own credit and get the same or better results.
Any comments or reviews made on this website are only individual opinions of the readers and followers of the website. The website and its authors team are not responsible, nor will be held liable, for anything anyone says or writes in the comments. Further, the author is not liable for its' readers' statements nor the laws which they may break in the USA or their state through their comments' content, implication, and intent.