Oklahoma Payday Loan Laws and Regulations
Find out if quick short-term Payday Loans are legal in Oklahoma. Learn what amounts, interest rates and repayment terms are set by the state's Legislation.
Legal Payday Loans Online for Washington residents
Apply online
oklahoma payday loans Rates and Terms
Legal Status

▲

Legal Status

The status of a loan type according to the Federal laws and regulations. What concerns Payday Loans some states consider them legal, some – illegal and some restrict them in terms of amounts and interest rates.

Legal
Maximum Loan Amount

▲

Maximum Loan Amount

It's the maximum sum of cash advance allowed to apply for in the state. It usually ranges from $500 to $1000. But it may vary depending on the lender and his requirements.

$500
Maximum Loan Term

▲

Maximum Loan Term

It's the maximum period of time within which you are to allowed to pay off your loan.

45 day(s)
Minimum Loan Term

▲

Minimum Loan Term

It's the minimum period of time within which you are allowed to pay off your loan.

12 day(s)
Maximum APR

▲

Maximum APR

The maximum percentage allowed that actually represents annual cost of your loan. The APR is based on several things, including the amount you borrow, the interest rate and costs you're being charged, and the length of your loan.

390.00%
Finance Charges

▲

Finance Charges

All the payments you're going to be charged for the loan including APR and other fees.

<$300 = $15
>$300 = $10 for every additional $100
To be on the safe side, before applying for a Payday Loan in Oklahoma, study the state's laws, rules, and regulations concerning short-term cash advance both online and in-store. Find legit lenders, compare their rates and terms to get the best deal.
Compare top legit Payday Lenders in Oklahoma:
Table of Contents:

Are Payday Loans legal in Oklahoma?

Oklahoma Payday Loan Terms and Amounts

Oklahoma Payday Loans online laws

Oklahoma Payday Loans interest rates, fees and other finance charges

Oklahoma Payday Loans direct lenders regulations

Oklahoma Payday Loans consumer information

Legitimate Payday Loans online with NO credit check in Oklahoma

Does Oklahoma law allow Payday Loans for bad credit borrowers?

Legit Payday Loans in Oklahoma collection practices

Oklahoma Payday Loans news  - latest changes

Oklahoma Payday Loans historical background
Short-term Payday Loans are Legal in the state of Oklahoma and are mostly regulated through  Okla. Stat. Tit. 59 3101 et seq. .
Oklahoma Deferred Deposit Lending Act.pdf
The Payday Lending legislation covers all the parts of the process concerning:
Payday Loan amounts
Payday Loan repayment terms
Payday Loan online direct lenders
Payday Loan stores near you
Payday Loan interest rates and other fees
Payday Loan collecting practices
Payday Loan default penalties
The number of outstanding Payday Loans as well as a cooling-off period in-between etc.
Read more: Payday Loans in Oklahoma
The main Payday Loan requirements in Oklahoma are:
US residence
Minimum regular income of $1,000 per month
Valid checking or savings account with direct deposit
Phone number and e-mail address
Oklahoma borrowers are allowed to apply for 2.00 loans at a time. The statistics show that approximately 78% of Oklahoma payday loans are to customers with at least 1 payday loan open or within 7 days of closing their last loan. Approximately 39% of loans are to customers with three or more consecutive loans. The result is a debt treadmill that makes payday lending especially expensive.
In addition, the two outstanding loan allowance may be the reason that few customers take advantage of extended payment plans as allowed by law. Nearly half of all transactions (46%) qualify for an extended payment option. However, only about 1 in 100 loans eligible for an extended payment plan use the extended payment option.
Oklahoma Deferred Deposit Lending Report.pdf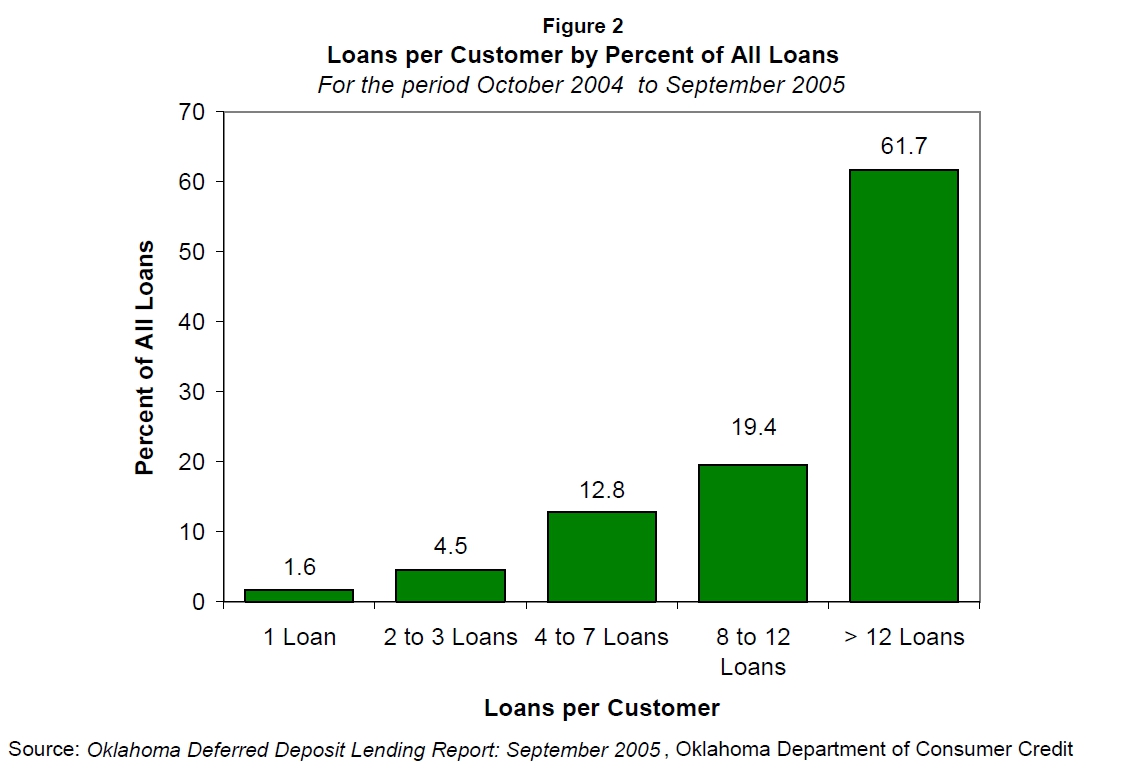 For more details read further to find out how many Payday Loans you can borrow, whether rollovers or extensions are allowed, etc.
Oklahoma residents who are eligible for a Payday Loan can get $500 cash advance per contract. The repayment term is capped at minimum 12 day(s) and maximum 45 day(s).
However, there are no limits on the purpose of loan usage. Any urgent expenses, unforeseen bills, car repair, home repair, etc. may seem a sound reason to apply for a Payday Loan in Oklahoma.
If $500 is not enough, there are always other options to receive the necessary funds in Oklahoma: unsecured Installment Loans, bad credit Personal Loans, Title Loans, Check Cashing, Pawn Shops, etc.
Payday loans from both storefront and online lenders are legal in the state of Oklahoma according to  Okla. Stat. Tit. 59 3101 et seq. . Any lender who violates these laws can be subject to civil penalties.
Reputable online lenders operating in accordance with all relevant state and federal laws can be applied to and compared on our platform using a simple online application form.
You state the necessary amount, fill in your personal information, and get suitable offers from legit direct lenders. It takes only a few minutes and doesn't affect your credit score. 
The main part of payday loan payment is mostly made up of the interest rate, or APR. The average APR that may be charged for short-term cash advance in Oklahoma is 390.00%. It means that if you borrow $100 Payday Loan for 14 days the finance charges will be <$300 = $15
>$300 = $10 for every additional $100.
Besides, the total cost of a Payday Loan includes some additional fees. Oklahoma lending rules allow to charge $25 NSF fee.
The law obligates Oklahoma Payday Loan lenders to provide you with a written disclosure of all the rates and fees in the understandable language. You should read them carefully and if you agree acknowledge the notification by signing the contract.
According to Oklahoma payday loan laws all direct lenders are obliged to register their companies which will allow issuing payday loans contract. It concerns both Online Payday Loans and Payday Loans Near Me.
A legitimate direct lender operating according to  Okla. Stat. Tit. 59 3101 et seq.  shall not:
1. Charge fees other than, or in excess of those authorized by the Deferred Deposit Lending Act;
2. Make deferred deposit loans at unlicensed locations;
3. Alter or delete the date on an instrument after it has been accepted by the lender pursuant to a deferred deposit loan;
4. Accept an undated instrument or an instrument dated on a date other than the date of the deferred deposit loan;
5. Accept an instrument unless the account on which the instrument is drawn is a legitimate, open and active account;
6. Require a debtor to provide security for the deferred deposit loan or require a debtor to provide a guaranty from another person;
7. Advance a loan amount greater than Five Hundred Dollars ($500.00) to a borrower in one deferred deposit loan transaction exclusive of the finance charge allowed in Section 3108 of this title;
8. Engage in a deferred deposit loan with a term of less than twelve (12) days or more than forty-five (45) days;
9. Negotiate or present an instrument for payment unless the instrument is endorsed with the actual business name of the lender;
10. Negotiate any instrument presented by a borrower if the borrower has redeemed the instrument by paying the full amount due under the deferred deposit loan;
11. Make any charge for insurance in connection with a deferred deposit loan transaction;
12. Refuse the borrower's right to rescind the deferred deposit loan at any time between the time of the deferred deposit loan transaction and 5 p.m. of the next business day following the deferred deposit loan transaction;
13. Charge the borrower an additional finance charge or fee for cashing a lender's business instrument, if the lender pays the proceeds from the loan transaction in the form of a business instrument;
14. Require or accept more than one dated instrument per deferred deposit loan; or 
15. Refuse the borrower's right to enter into an installment payment plan, pursuant to this act.
Besides amounts, rates, and fees, consumers must be also well aware of other details of Payday Loans in Oklahoma. They include the availability and number of rollovers, extensions and repayment plans, a cooling-off period, any default penalties or additional fees, etc. Check out the table below to find the most essential information:
| | |
| --- | --- |
| Rollovers or extensions | Repayment plan made up of 4 installments |
| Cooling-off period | 2 business days after 5 consecutive loans |
| NSF fee | $25 NSF fee |
| Criminal actions | Prohibited |
Look for more detailed information on the official Oklahoma state regulator website - The Oklahoma Department of Consumer Credit, 3615 NW 56th Street, Suite 240, Oklahoma City, Oklahoma 73112-4512, 405) 521-3653, https://www.ok.gov/okdocc.
Looking for a legal Payday Loan with No credit check in Oklahoma? You must understand the meaning of this phrase correctly at first. No credit check implies that a lender will not inquire about your credit history information from or send your borrowing data to any of the three major credit bureaus Equifax, Experian, and TransUnion.
If you don't want to damage your credit history, Oklahoma law allows you to apply for a Payday Loan with No credit check. But you should understand that a lender needs to check your creditworthiness at least in some way. He can perform a soft credit check when a lender pre-approves you for a loan and this inquiry will not appear on your credit report. Or there're other ways to prove you can afford the cash advance. Payday Loan lenders use the tracking system to verify your debts, check your income, etc. And generally they charge higher interest to lessen the risks.
No credit checks are conducted to see if the borrower can afford the loan. As a result, the loans attract low-income and financially vulnerable customers who cannot qualify for or have exhausted other forms of credit. - Issue Brief, Oklahoma Data Shows Chronic Borrowing With Payday Loans, November 30, 2005
Oklahoma Payday loans online no credit check are one of the easiest options of getting quick cash to cope with emergency financial requirements, especially for the people with poor credit.
The average credit score in Oklahoma is 656, placing it in the good range. But it doesn't mean that those who have a worse credit can't apply for a Payday Loan in the state. 
First of all, there're a lot of legit direct lenders in Oklahoma providing Payday cash advance to borrowers with both good and bad credit score.
Secondly, you can always find a cosigner to increase your chances of being approved for a bad credit Payday Loan.
Find out how to improve your credit score and do your best to do it fast. 
Or consider taking out a bad credit Installment Loan, or bad credit Personal Loan.
If you can't repay the loan amount plus interest on a due date it means you default the loan. When Oklahoma direct lender isn't able to cash your check after the repayment term is over he may charge you an NSF fee. NSF fee means there are non-sufficient funds on your account. The amount charged is determined by the lender and stated in the agreement and may also be limited by the state's Payday Loan law. In Oklahoma NSF fee is $25 NSF fee.
Added by Laws 2003, SB 583, c. 240, § 6, eff. September 1, 2003; Amended by Laws 2004, SB 1565, c. 557, § 4, emerg. eff. June 10, 2004, Section 3107 – Manner of Collection for Past-Due Accounts
A. A lender shall collect past-due accounts in a professional, fair and lawful manner, in accordance with
the federal Fair Debt Collection Practices Act.
B. A lender shall not threaten or pursue criminal action against a debtor as a result of the debtor's
instrument being returned unpaid or the debtor's deferred deposit loan account not being paid.
C. A debtor shall not be subject to any criminal penalty if an instrument is dishonored.
If you think that your payday lender violates the Oklahoma Payday Loans law, you may file a written complaint with The Oklahoma Department of Consumer Credit, 3615 NW 56th Street, Suite 240, Oklahoma City, Oklahoma 73112-4512, 405) 521-3653. The supervisor from that office interviews witnesses, reviews the payday lender's business records and documentation, and determine whether to pursue civil or criminal charges.
The new Payday Loan rule was scheduled to be enforced in mid-2019. It offered basic and common sense protections for consumers:
making lenders verify customers can afford to repay the loans;
giving the borrowers authorization before drawing payment from a their bank accounts after two unsuccessful attempts. 
Congress is still discussing whether to allow the rule to go into effect or to block it. 
In the meantime, there's also work to be done in Oklahoma. Last year, the Legislature attempted to expand predatory lending in Oklahoma. They were unsuccessful, thanks to a veto by Governor Mary Fallin, but it's possible they will try again this year. 
We must be vigilant and fight against any attempts to expand these dangerous practices in our state. To protect Oklahomans' financial well-being, we should be reforming the predatory loan industry, not expanding it.
The history of Payday Loans in Oklahoma

| | |
| --- | --- |
| 2003 | Payday lending became legal by Oklahoma law. |
| July 1, 2004 | All Payday loans had to be recorded on the database. |
| 2006 | Military loans wre capped at 36% APR. |
| 2013 | There were 358 licensed payday lending stores in Oklahoma according to the Center for Responsible Lending report. |
| June 2, 2016 | A Payday Loan Rule was proposed. |
| 2016 | Payday lenders flourished in the state with no restrictions coming. |
| 2017 | The regulators tried to put Installment Loans to the market but with no success. |
| 2019 | No more changes in Payday lending were passed. |
If you're looking for instant cash advance in Oklahoma but not a Payday Loan, consider other alternative ways to get the necessary funds:
Apply for an Oklahoma Installment Loan - $1000 - $5000 cash advance repaid over several months or years in equal installments.
Take out a Car Title Loan if you own a vehicle to use as a collateral.
Sell some of your valuable stuff online or at a pawn-shop.
Consider borrowing from a bank or credit union - Oklahoma's Credit Union, Oklahoma Central Credit Union, Focus Federal Credit Union. 
Qualify for one of non-profitable Oklahoma state assistance programs: Oklahoma Low Income Home Energy Assistance Program, Oklahoma's Supplemental Nutrition Assistance Program, SNAP Food Stamps, Meals on Wheels, Women Infants Children, Child Care Food Program, etc.
Compare your possibilities and look for the credit offer with the lowest APR and the finance charge - consider a small loan from your credit union or small loan company, an advance on pay from your employer, or a loan from family or friends. 
A cash advance on a credit card also may be a possibility, but it may have a higher interest rate than your other sources of funds: find out the terms before you decide. 
Ask your creditors for more time to pay your bills. Find out what they will charge for that service - as a late charge, an additional finance charge or a higher interest rate, before you take out a payday loan to pay these bills.
Make a realistic budget, and figure your monthly and daily expenditures. Avoid unnecessary purchases - even small daily items. Their costs add up. Also, build some savings - even small deposits can help - to give you a buffer against financial emergencies. 
Find out if you have, or can get, overdraft protection on your checking account. Overdraft protection can help protect you from further credit problems by helping you avoid costly fees. Find out the terms of overdraft protection. 
If you need help working out a debt repayment plan with creditors or developing a budget, contact your local consumer credit counseling service. 
If you decide you must use a payday loan, borrow only as much as you can afford to pay with your next paycheck and still have enough to make it to the next payday.