When you need a business loan, you are usually supposed to secure this loan with some type of revenue. But sometimes it happens that your business is not so successful yet and can't provide enough income to qualify for financing. You have a couple of options then:
First, you can wait and hope for a better cash flow to your company and afterwards – apply for a loan.
Second, available instantly, apply for a business loan with no income.
As statistics show, on average, small business owners make about $65,000 a year. More details on their income can be found on the diagram below: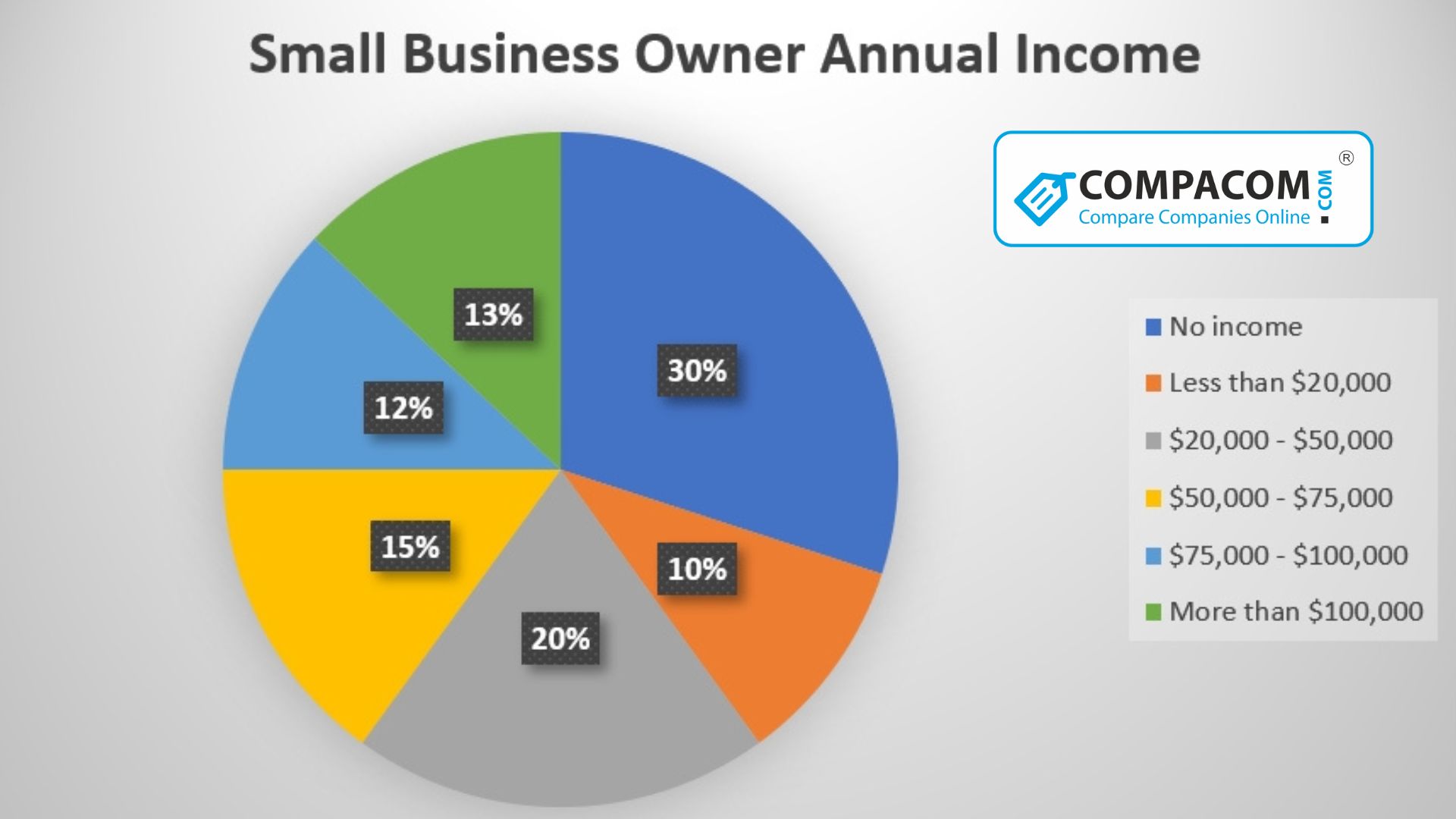 As a result, minimum 30% of small companies don't have access to financing due to their lack of income. But there're loans for businesses with no revenue and we'll help you find out the details.
Can You Get a Startup Business Loan with No Money, No Revenue, or Low Income?
Are you just starting a business? Looking for extra financing to help you break in? Let's discover the options for financing you can obtain even without revenue.
It's very important to make the right choice. The loan may influence your future success. It will determine how fast your business is going to grow. Consider interest rates and other responsibilities you are going to accept.
43% of Americans apply for a business loan online. And as Federal Small Business statistics show, online lenders offer approval to 80% of borrowers.
Let's enumerate all the options for financing a business with no money at first.
10 Best Business Loan Options for No Income Companies
Debt financing
SBA loans
Business Credit Card
Personal Loans
Short-term loans
Equipment financing
Invoice financing
Line of credit
ACH loans
Merchant cash advances
Let's see how they differ and what they have in common.
All of these loans may be granted to small businesses with no income. They can be applied for online and in a rather simple way. Financing is quick and can help you cover any emergencies you come across.
Debt Financing
Debt financing can be obtained by means of of installment loans, revolving loans, and cash flow loans. When you borrow an installment loan, you repay the money in scheduled monthly installments. They offer competitive interest rates and can be really beneficial for your company. You save on taxes and know how to plan the budget as you have a detailed plan of loan repayment.
Small Business Administration (SBA) loans
SBA loans resemble bank loans, but they are provided by the agency. It means they are less risky for the lender. Lenders may provide guaranteed approval and lower rates.
Business credit card
Everybody knows how to use a credit card. It makes this type of financing very simple. Besides, there're lots of rewarding programs such as free miles, cash, or gift cards. The best point with business credit cards is that interest is charged only for the amount used. In case, you are not sure what loan amount you need, it's great option for you.
Short term loans / Microloans
Microloans are small dollar loans (typically of up to $35,000 or less), and they are usually offered by online lending oganizations. Personal loans are likely to be cheap as they are intended for businesses with no revenue.
Equipment financing
The equipment financing works as a secure type of loan when you get all the cash necessary for the purchase and equipment serves as collateral for the loan. With a personal loan for equipment financing your income doesn't play a major role. Lenders are more concerned with what you are going to buy.
Invoice financing
Invoice financing is another secured loan where your unpaid invoices serve as collateral. Lenders provide you the money and take some percentage of these unpaid invoices. Their value is the most important factor for the lender. It's rather easy to get approved for such business loans with no income.
Business lines of credit
Business line of credit is something close to credit cards. The available funding varies from $1,000 to $500,000. You get access to the money within 1–2 weeks. Interest rates range from 8% to 24%. It perfectly suits businesses which are regularly in need of some extra cash. It's not for a one time purchase but for constant financing. You can make some purchase today, pay salary next month, pay bills, etc as soon as you need.
Business line of credit is a revolving credit type which can be used whenever necessary. It's recommended to have at least minimum income of $50,000 for your business to qualify for a line of credit, but companies with no money can also qualify.
ACH loans
An automated clearing house (ACH) loan, or cash flow is a small short-term loan that offers business loans with no income, no collateral, no business credit. They provide instant financing within 1 – 2 business days. It's perfect for startup businesses who have no revenue yet and need money quickly.
However, they have another side of the coin – certain amount will be withdrawn from your bank account by the lender at agreed-upon terms.
The most important factor to get approved for ACH loans is the cash flow or balance on your bank account. The revenue can be ignored, and you get the loan even with no income.
Merchant cash advances
Merchant cash advances (MCA) let you get a business loan with no income using your future revenue as collateral. You can borrow up to $200,000 and use the funding on the same business day. The interest is a bit higher than to other loans, 18% minimum.
MCA loans differ from ACH by repayment process – it begins immediately after you get the money on the bank account. You repay in agreed-upon percentage of your deposit.
It's easy to qualify for a merchant cash advance loan. There's no paperwork or lots of documentation. Collateral is not required. Lenders are likely to check your previous bank statements. They don't even do credit checks typically.
How to qualify for a Business Loan with No Income?
Lenders usually do some financial analysis and check the following data:
business debt coverage
business debt usage
business revenue trends
payment history
number of trade experiences
outstanding balances
In case all these items are good, you are guaranteed to get a loan for your business even with no money. There're other loans available with no proof of income - for example, online title loans with no proof of income.
Business Loans with No Income and No Credit Check
All of these mentioned above loans don't require your business credit checks. Most lenders just consider your personal credit score and how you run your business. It's done to evaluate how risky you are as a borrower. Lenders want to make sure you will pay the money back.
How to get a Business Loan with No Credit
When you have a startup business, you have hardly managed to establish any credit yet. And lenders have to find other qualification criteria for such business loans offered to yang companies with no credit.
Typically, they just check your discipline – how you pay the bills, how consistent are your mortgage and car payments. Business owners with a good credit score can rely on it to get approved for a business loan. Their fair personal credit history will even provide you with lower rates.
In case your personal credit is not so perfect, devote all your attention to your business experience. Find all the possible arguments to talk the lender into lending you the money even with no revenue of the company.
Highlight the duration of your work, share a business plan, etc. And of course, work to raise your credit!
How to Choose the Best Loan for Your Business with No Income
Here's a detailed guide to finding the most suitable loan for your business:
Determine how much you need – it will greatly influence the choice of a business loan. You can borrow the least of $5,000 personal loan to maximum of $500,000 business line of credit.
Find the best loan to suit your business model. The financing type can be affected by your business cost, infrastructure needs, and operational overhead, etc.
Calculate how urgently you need money. For instant financing business owners apply for ACH or MCA loans available in a few days.
Use loan calculators to check your rates and find out the total loan cost. It's a crucial factor when choosing a business loan with no income. Your business doesn't have any revenue now and it doesn't need any more debt in the future. So, it's important to borrow the loan you can afford.
How to get a small-business loan with no money or revenue
When you can't get approved for a traditional bank loan because you don't have any revenue to secure the loan, there are still other options to get a business loan with no income. Follow the steps below:
Evaluate your other assets besides business income. It can be some type of collateral. Even car title loans can work here. If you own a vehicle, you have great chances to get up to $10,000 with the same day direct deposit into your bank account.  Your personal credit score, providing it's good, can also make you look safer for a lender.
Check the eligibility criteria required for getting a business loan with no income. Typically, lenders offering business loans with no revenue pay much attention to a borrower's personal credit score. Make sure you qualify for the loan in advance.
Plan your budget to be sure to repay the loan on time. In case you have no money on your bank account balance and the lender starts to withdraw cash automatically, it can lead to extra penalty fees and even to debt.
Weigh all pros and cons, evaluate the risks. Loan terms reflect risk. If rates and terms are too hard for you to handle, try to avoid such loans. Getting out of debt can turn out even more complicated than finding the necessary financing now.  Consider all the possible financing options.
Business Loan with no Money Alternative Financing Options
Take your time and wait. It's the best plan but it doesn't always work. If you really need money right now, read further for the options available:
Use donations or crowdfunding which can provide you with funds from investors.
Try to qualify for a grants or other Government programs for small businesses.
Save money to use it for your business.
Make some extra money doing side gigs.
Sell or pawn something.
Try to find an investor interested in your startup.
If none of these work, choose the best business loan available for companies with no revenue and apply online. Use this money wisely to develop your business and pay off the loan as soon as possible.