Most people cannot imagine their life without a car. This vehicle not only saves time, but also helps to get to the desired place easily and comfortably. But what if your car breaks down and you need a new one? Most often, when buying a new car, people take out a loan. And, of course, the best loan for such a purchase is a Car Loan. A good idea is to start with choosing the best Personal Loan lender and compare their rates charged for Auto Loans:
Table of Contents:

So what is a Car Loan and how does it work?

What determines the size of the Car Loan monthly payment?

Lower Car Loan monthly payment. Profitable or not?

Auto Loan rates by credit score

Before taking out an Auto Loan, weigh the pros and cons

Who is eligible for a Car Loan?

How to Get a Car Loan with a bad credit history?

What do you need to know about auto financing?
A Car Loan is a Personal loan that helps the borrower pay for the car. These loans can be purchased from various lenders. It is important to go through all the offers and choose the best one, as each lender offers different interest rates and loan repayment terms. When you take out a Car Loan, you receive the money and then pay it back with interest. The loan repayment time is usually negotiated with the lender.
Of course, it is impossible to single out one main component, since there are at least 3 main factors that affect not only the monthly payment but also the total amount that you have to pay on the loan.
| | |
| --- | --- |
| The loan amount | You do not need to take out a loan for the value of your car, you can borrow as much as you need. Also, the loan amount depends on whether there was a down payment and how much it was. |
| The annual interest rate on the loan | The interest rate also directly depends on the loan amount and repayment period. |
| Loan repayment term | Loan repayment time may vary. Typically, people take out a loan for a period of 12 to 72 months. |
As practice shows, a large number of people prefer to pay less money per month. But, at the same time, this means that the loan will be repaid over a longer period of time. Of course, the lower monthly payment is easier to pay, but is it really beneficial?
Paying the loan over a longer period of time incurs additional interest. That is, if you take out a loan for 5 years instead of 4, then every month you will be paying a smaller amount. But, it is important to understand that for an additional year during which you pay off the debt, you also pay additional interest every month. Thus, the total amount after 5 years of repayment of the loan will be much more than if you repaid it in 4 years. It's up to you to decide what is more important to you.
You can use an online Personal Loan Calculator to check your rates for a Car Loan before you apply.
| | | |
| --- | --- | --- |
| CREDIT SCORE | AVERAGE APR NEW CAR          | AVERAGE APR USED CAR |
| 781–850 | 3.24% | 4.08% |
| 661–780 | 4.21% | 6.05% |
| 601–660 | 7.14% | 11.41% |
| 501–600 | 11.33% | 17.78% |
| 300–500 | 13.97% | 20.67% |
Source: Experian: State of the Automotive Finance Market Q2 2020.
There are no bad or good car loans. There are also no universal car loans that will suit everyone. You need to take the time to research car loans and find the right one for you. Remember that it depends on many factors: on your financial situation, on the time of payment, on the interest rate.
The loan repayment period matters. Remember that with a longer loan, you will have to pay more interest. But also take into account the fact that in this case, your monthly payment will be less. It is up to you to decide which of these options is more beneficial and convenient for you.
Check out the different proposals. Each lender has its own interest rate on the loan. If you study several options, you can choose the most profitable one, and your interest rate will be as low as possible.
In order to be eligible for a car loan, you must meet certain requirements. Each lender has its own specific requirements, but there are a few basic ones that you must follow:
You must be at least 18 years old
You must be a US citizen or permanent resident.
You must have a steady job.
You must provide your address, contact phone number, and email.
You must provide a social security number.
Remember that every request is different. Depending on the specifics of the request, other documents may be required, for example, bill of sale, proof of income, registration, title, federal tax returns, financial statements, and others.
More often than not, borrowers with a bad credit history doubt whether they can get a car loan. Many lenders will prefer to decline the application, but it is still possible to get a loan. You should understand that in case of bad credit history, the interest rate on the loan will be higher.
You can also increase your chances of getting a loan in several ways. Check out the main ones.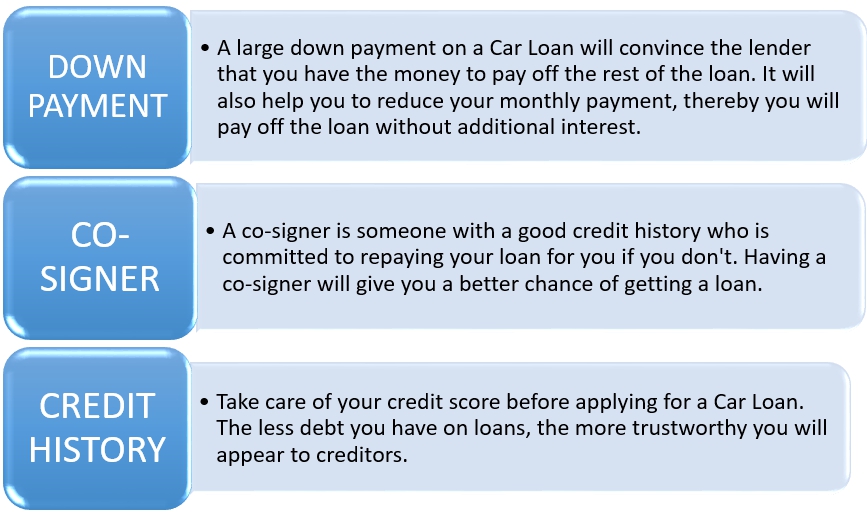 Once the loan is confirmed and issued, you can finally get money to buy a new car. The lender will pay you the agreed amount and tell you the interest rate. You can get money in different ways:
direct deposit to your bank account.
certificate for use in a car dealership
a check without obligation.
Apply online. To do this, you need to fill out a form that will not take much of your time. In a couple of minutes, you will be able to send an application. Do not worry about your personal data - we do not share it with third parties.
Wait for approval. You no longer have to stand in lines and waste time waiting. By applying online, you will be able to get your loan application approved in a couple of minutes after filling out. There are situations when it takes more time to process an application. In this case, you will receive a letter in your email indicating the time when the decision will be made.
Get a check for the loan. The next day after confirming the application, you will be able to get money and buy the car you have long dreamed of.